It looks as though all things are in order and we are good to go for launch tomorrow. We have helium and our payload is ready. Tracking has been quadruple checked. Mother nature is appears to be cooperating. Low winds. We are shooting for a 9:30-10:00 launch central time.
The flight path is the only thing that could be a problem. If the predicted flight path based on weather conditions in the morning has us flying too far north or east we will have to wait for a different day. But as of this moment we are a green light for launch. I'll update in the morning.
Below is the predicted flight path as of tonight at about 10:30 PM. Ideally we would like to see it land south and west of Bowling Green. This flight path is about a 5-6 out of 10 on the desirability scale. Right click on the and "View Image" for a larger look. As you can see we are landing East of Bowling Green and that is in a more forested section of Kentucky (I don't really want to be climbing trees if I can help it). West is flat farm lands and where we want to land. Hopefully tomorrow we will see a more favorable predicted flight path based on the winds at the time.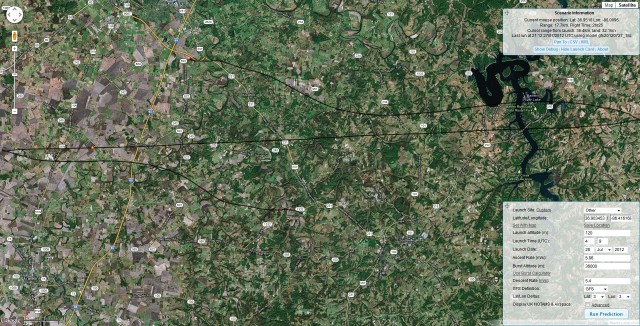 Ad Astra!